My first job out of college was at the Royal Alexandra Hospital in central Edmonton. Part of the job was creating newsletters, brochures, displays and other communication material.
And because the Royal Alex is a teaching hospital, I was always on call to photograph surgical procedures, autopsies, and any specimen the physicians found unusual or bizarre.
To a kid, the morgue and O.R. seemed pretty gruesome. But it was absolutely fascinating.
Every case was unique, and working alongside those docs, nurses, pathologists and technicians was an education like nothing else I'd ever experienced. When I opened Graphos a couple years later, our very first project was the Royal Alex's Annual Comunity Report. Since then, we've had numerous healthcare clients, several of whom have continued working with us 20 or more years. It's still possibly my favourite sector: always filled with learning opportunities from brilliant and forward-thinking clients.
My peers are sometimes surprised to hear that I enjoy healthcare marketing so much. The realm is a little misunderstood and often under-served, due at least in part to a relatively low glamour factor. Most marketers just don't find healthcare exciting or sexy.
Which is a shame, and healthcare organizations often settle for lame branding and marketing due to a number of popular misconceptions. Here are five of the most common myths, and the truth behind them:
Myth 1: Healthcare Marketing Has to Look Clinical
True, the medical and healthcare industry is among the most conservative sectors. Physicians and their colleagues are deeply conditioned to replicate what they've seen in application, and few are interested in taking substantial risks with their livelihood. That's why most hospital branding is either surgical green or periwinkle blue.
And despite not being marketing or design experts, doctors carry unmatched authority in our society, which can make it a challenge for an agency to challenge their beliefs or sell them on the risks associated with a uniquely creative approach. Especially within the confined periods available for meetings with some of the world's most time-poor, tightly scheduled professionals.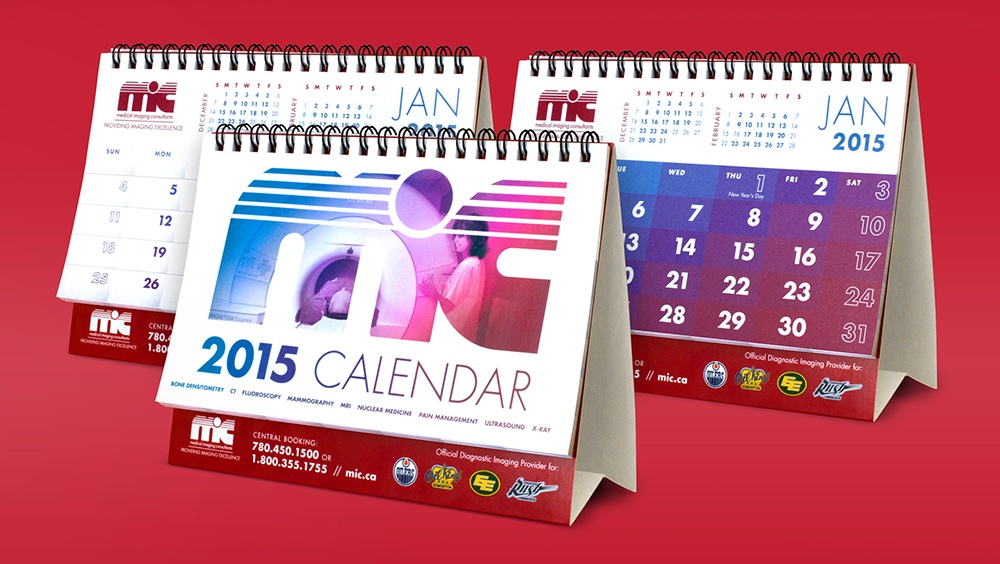 But it can be done. I've been working with Canada's largest partnership of radiologists at MIC since we designed the company's logo when it began operations in 1996, and together we've created everything from award winning T-shirts to brochures, advertising and a more than a decade's worth of highly effective clinic calendars. You can see some of our other work for MIC here.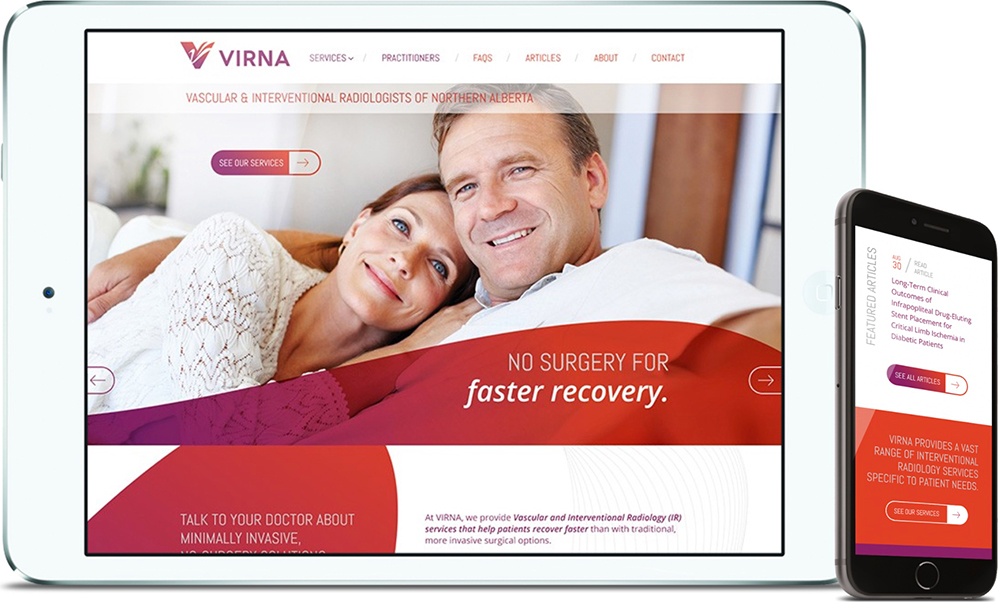 And for a new MIC vascular and interventional radiology arm called VIRNA, Graphos created a website that breaks away from many healthcare marketing conventions, with a focus on audience goals, usability and content strategy. Its success is as much a tribute to VIRNA's fantastic doctors and their support staff as to our own design and strategy efforts.
Myth 2: Healthcare Branding is Always Cliché
You don't have to look far to see where this belief comes from. There is an endless supply of sterile and boring healthcare websites on the interwebs, and the logos are even worse.
In healthcare branding, each discipline carries a prescribed bag of clichés. Those are the go-to design elements like hearts, stethoscopes, and electrocardiogram zigzags for physicians. Spines for chiropractors and a tooth for dentists. Sure, they're obvious, but they do the opposite of differentiate – the whole purpose of branding.
That's why my favourite recent example of healthcare branding is Ascension Chiropractic. Ottawa chiropractor Dr. Derek Haughton came up with the slogan "Because There is So Much More" to express how his practice impacts the entire life of patients, far past the alignment of their spines. (To fully appreciate how meaningful this sentiment is to Dr. Haughton, it's worth experiencing his video on the Ascension homepage.)
Instead of the ubiquitous spinal column seen in the logo of almost every chiropractor on earth, we introduced a beautiful iceberg icon that illustrates how the clinic's results reach beyond the obvious. It makes for the centrepiece of some fresh and highly memorable branding, and helps drive home Dr. Haughton's unique positioning through a thought-provoking visual metaphor.
Myth 3: Healthcare Web Design "Packages" are Just as Effective
Beyond the conservative nature of practitioners, there is a practical reason many healthcare websites tend to look alike. It has become popular to buy website packages that allow dentists and doctors of every discipline to tap into large repositories of stock content, images, and even logos.
As horrifying as a stock logo is for a branding expert, stock text is far worse. To search engines like Google, duplicate content is the ultimate sin – and using it as the basis for an entire website can have dire consequences. For our clients at the well-established downtown Edmonton dental clinic 7th Street Dental, a responsive website redesign with fresh text content led to a tripling of organic traffic in less than a year. And that has equaled a large increase in new patients.
Marketing healthcare businesses comes with some unique challenges. Dentists, especially in Alberta, are required to adhere to a restrictive advertising policy, and performance claims must always be kept in careful check. Doctor schedules are incredibly tight, making it tricky to fit in as much client education and discovery time as we'd like to. And despite what you might expect, budget is always, always a concern.
To me, those challenges are part of what makes healthcare a preferred sector in which to work. It's never easy, and marketers must be very good at what they do to achieve standout results and ROI within a budget.
Experience and a solid planning and project management framework are what separate winning healthcare campaigns from the legions of clichés and lookalikes.
To get started with no obligation, click the link below.