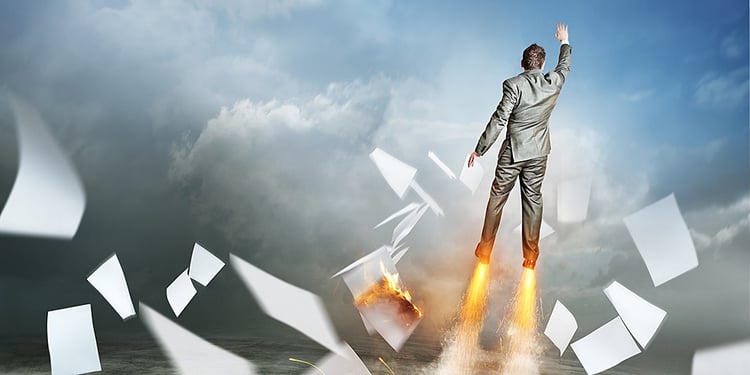 There's no end of tweet-worthy statistics to support the effectiveness of inbound marketing for businesses. A combination of content marketing, social media, and tools for automation and monitoring, inbound has changed the way marketers work to acquire and nurture leads.
AND for the people behind the results—those marketers themselves—inbound can have some phenomenal, career-changing impacts.
1. It will transform the way you think
Once immersed in the inbound marketing, a major paradigm shift always happens. Being directly connected to engagement, conversion rates, and ongoing measurement of ROI, you'll see your understanding of your role as a marketer transform. No more smoke and mirrors; we're into tangible results. Suddenly, there is a direct connection to your goals, where every effort counts and daily progress is measured against prior achievements. Starting with inbound is likely to be the most exciting thing that's happened in your marketing career.
2. You'll finally get social media marketing right
Since the early days, social marketing has been a space where brands walk a wiggly tightrope and marketing dollars routinely vanish into the ether. With inbound, social media suddenly has a clear and substantial role in driving engagement. Doing it right is pivotal to success, and inbound marketers use integrated tools to combine automation and monitoring in ways that excite the CEO. Not only will you create new value through advanced social media marketing, but you will finally be able to prove it!
3. You'll be forced to learn—a lot
Content marketing is a big part of inbound. That means your job as an inbound marketer will include doing ongoing research and being plugged in to industry news. Yes, it's extra work, but think about it: this is precisely the kind of knowledge that makes you desirable to your customers AND to future employers. Committing to inbound marketing is also a commitment to continuous learning, mentoring and engagement that will put you out there, directly rubbing shoulders with your target audience. I guarantee you'll grow and derive measurable value as a professional. What's more important than that?
Since my earliest involvement in inbound marketing, I have been delighted with the unexpected benefits. The primary goal is always to generate more leads for the client. That's a given. And along the way, numerous co-benefits appear that can be equally valuable.
If you've been looking for ways to differentiate yourself in your career as a marketer, there is no better way than getting started with inbound. In addition to the mountain of relevant knowledge you'll acquire, you will make tangible, unprecedented improvements in your organization's sales, branding, communication and customer satisfaction. Whether you'll use those metrics on your résumé or in future goal-setting, they are career gold.
I would love to help you get started in setting your own inbound marketing goals, whether in my role as a certified Hubspot Partner or by answering your questions. Please write me, use our contact form, or post a comment below. Let's make your career exciting!
Laurier Mandin is the president and principal consultant at Graphos, the world-class Downtown Edmonton web design, inbound marketing and branding agency he founded in 1993.