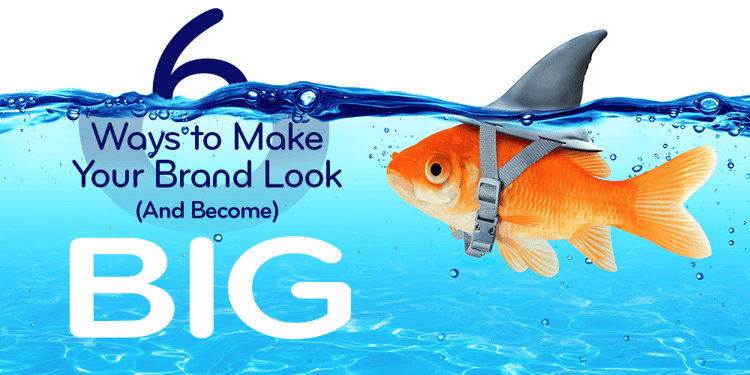 How is it that all the world's greatest companies have such amazing branding?
Think about this a moment longer. Powerful branding has enabled those top businesses to become standout industry leaders. Branding is as core as the actual product and service—often even more so.
It's never too early, or too late in your company's lifecycle to elevate its branding. Here are 6 ways your company can look bigger than it is, and pave the way to massive success:
1. Set Standards
Brand management guidelines are not just for big companies. In fact, it's surprising how many businesses of any size lack documented standards. Right now I'm working with a large organization that has spawned more than a dozen variations of its logo, with no official rules for their application. Guess how well that's going? The good news: we're fixing it. Defining guidelines for your branding is an important milestone on the road to greatness.
2. Listen to the Experts
Would you go to a lawyer for advice, and then do the opposite of what you're told? Of course not. But you'd be surprised how many brand owners set off in their own way, against expert recommendations. The worst part is, those businesses are often oblivious to how badly their brand is being harmed by their renegade actions. Great branding should rocket you outside your own comfort zone, while respecting numerous rules driven by function, psychology, design principles, colour theory and aesthetics. My advice: choose an expert you can trust 100 per cent, invest yourself in guiding the discovery process, and empower the magic to happen.
3. Refuse to be Generic
The whole point of a brand is to create value through differentiation. It's obvious, right? But so many business brands are built on commonplace company names, generic-looking logos and service offerings that mimic competitors. That's not branding! When you think of any highly successful brand, it clearly stands out from all others in its realm. Think of how IKEA is unlike other any other furniture company, and Starbucks dominates over thousands of well-run coffee vendors.
4. Rise Above Social Mediocrity
How does your business plan and manage its social media activities? If it's like most, pretty badly. Social media marketing should never be an afterthought. It must be planned, scheduled and orchestrated like the pivotal part of your brand it is. Consider using marketing automation tools to make your social media posts regular and deliberate, and have internal guidelines for spontaneous posts as well as how your brand engages with others.
5. Leverage Great Content
As the lead content writer for many of my clients, I'm forever amazed at how many brands underestimate the value of good copy. Industrial businesses are especially notorious for spouting unreadable, jargon-packed web content, but no sector is immune to bad writing. A strong content strategy and clear messaging is one of the best ways to leap ahead of competitors. Before it can attempt to compel, your messaging must first be understood.
6. Demand Spectacular Design
Because my company's niche is in creating world-class branding and websites, I set the bar high on what qualifies in my books as exceptional web design and marketing. It must be better than good. Branding excellence is best achieved through a collaborative approach with a team of tight-knit experts who come to understand your business and take the time to finesse every detail. Your competitors probably have well-designed marketing materials. Make yours spectacular, and customers will notice.
Choose to Dominate, and Act on It
Branding is complicated and difficult, and that's why truly great brands are scarce. It's an oft-undervalued discipline, particularly among less savvy business owners. (There is a reason why it's often the large companies with internal branding teams that hire people like me to provide direction and strategic guidance to their brand advancement efforts.)
Your branding is one of the most worthwhile and rewarding pursuits you'll encounter in your career. Do it very well, and you will become a market leader.
Laurier Mandin is the president and principal consultant at Graphos, the world-class Downtown Edmonton web design, inbound marketing and branding agency he founded in 1993.
To get your FREE, one-on-one Pro Branding Boot Camp, click on the link below.