When we first began working with Minerva in 1995, the company had already been around for 17 years. The original logo was lifeless and generic, and the printed materials lacked lustre.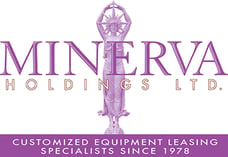 The 1995 Minerva Holdings logo featured a stone Roman goddess and chiseled type.
Minerva's visionary founder, the late Tony Holloway, wanted something unique. He retained Graphos to design a new logo, stationery, presentation folder and brochure for his successful enterprise that specialized in custom healthcare equipment financing and medical clinic equipment leasing. He'd named the company after the ancient Roman goddess, and envisioned a depiction of sorts in its logo.
Tony loved our designs (which 21 years later look horridly busy to me), but the various print jobs were plagued by a series of issues. He bore with us without complaint, accepting my repeated apologies and trusting us to get everything right. I recall being mortified about the ongoing problems, and would never have guessed it was the start of a relationship that would flourish for decades.
Since that first assignment, we have gone on to work with Tony's daughter Suzan Williams and his grandson Dylan Williams in planning and deploying the continuing evolution of the Minerva brand. It's not often a business relationship sees the continuity of three generations, and it is an honour to me to have been trusted by Minerva for so long. At Graphos we now have a handful of clients in our 20-year-plus club, and none is more special than Minerva. They're some of the finest folks I've ever known.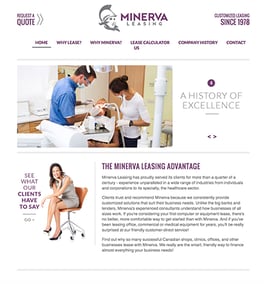 In 2012, Minerva's website launched the company's "warrior" logo and branding hearkening a new generation of leadership.
Like the company behind it, MinervaLeasing.com is now also in its third generation. Our original web design (circa 2000) was static but replete with tools and information to help people understand the benefits of leasing with Minerva. It enjoyed a long life, supported by incremental updates until we redesigned the Minerva brand in 2012 – not long after Tony's unexpected passing.
Even before Suzan took the helm, we had been planning for the branding to evolve in a bold new direction. The website of the time was a clean, confidence-inspiring tribute to a vision already 34 years in the making. Tony had always valued and worked alongside strong women, something we thought the new brand should reflect under Suzan's leadership.
As with all websites we design and develop, the 2016 Minerva Leasing site leverages responsive design, with layouts tailored for maximum usability in desktop, tablet and mobile screen resolutions. The Minerva logo is likewise designed to be responsive, and you can see it in various forms that scale for the webpage headers, backgrounds and graphic elements. The branding is in some ways less plainly feminine in its latest iteration – appropriate as Dylan's role continues to expand within the company.
We've worked with Minerva to increase and optimize its reach across a range of platforms, delving into inbound marketing through its blog, Twitter and LinkedIn.
Minerva is a brand deeply ingrained with a personal, human touch. Suzan still sends letters by post, and clients appreciate her Minerva-branded promos like phone chargers and gift cards. The online brand is an extension of the treasured human side of Minerva and its custom leases.
I'm very pleased with the latest Minerva website. In many ways it is simpler than previous iterations, a reflection of the streamlined elegance of Minerva's services customers will appreciate. (I can relate, as Minerva has provided me with leases on computer equipment, software, office furnishings and more over the years, and it's been remarkably easy and pleasurable.)
If your business is looking for a tax-smart leasing or finance partner, you couldn't possibly be in better hands.
And if you'd like to get started on a branding or web design project of your own, send me a note. Or click the pink button below for a free individual website planning boot camp!
Laurier Mandin is the president and lead consultant at Graphos, the world-class Downtown Edmonton web design, branding and inbound marketing agency he founded in 1993.