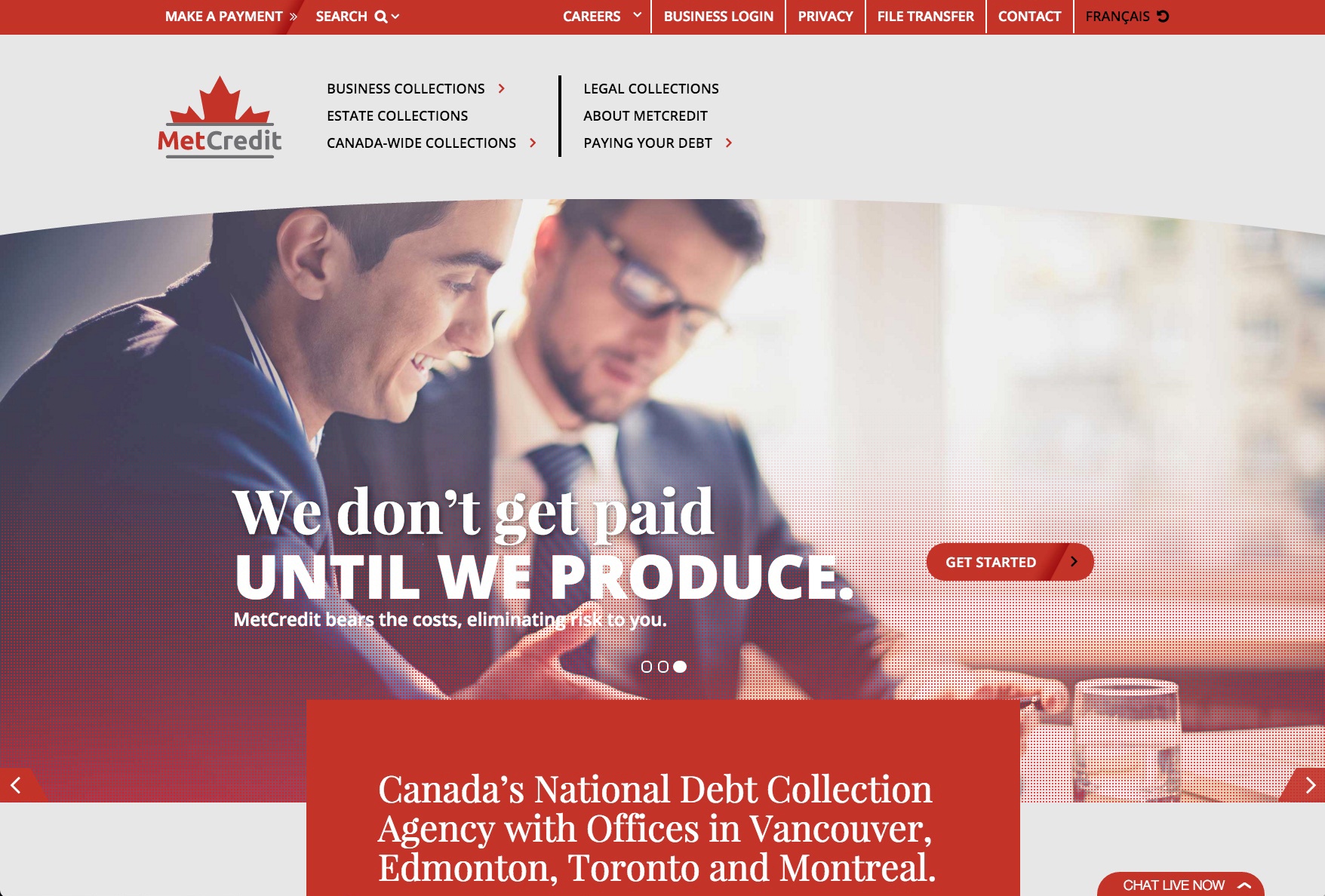 Are you having trouble collecting money owed to your business?
We've got a website for that.
MetCredit is a national debt collection agency that helps businesses get paid quickly, and has been a leader in its industry since 1973. Our goal was to create a new mobile-friendly website that attracts and empowers MetCredit's three completely distinct audiences:
1) Prospective and existing customers: These range from mom-and-pop businesses to Canada's big banks, major telecommunications companies and retail chain stores. Virtually every kind of business in any sector can benefit from a collection agency, so there are a lot of user types within this one audience.
2) Debtors: Thousands of people come to the MetCredit website every month in the interest of settling a debt. These can be consumers with an outstanding cellular bill, or businesses owing large amounts. Because consumers can pay online through the website with a debit or credit card around the clock, it was critical that we avoided downtime in the relaunch.
3) Job seekers: With busy Vancouver, Edmonton, Montreal and Toronto collection agency offices, MetCredit is constantly looking for talented people. The company is a top employer in these cities, and many of its senior management (including the president and CEO) have risen to their current positions from the collection floor.
The MetCredit project was substantial and included an in-depth discovery phase. Despite that we had worked with the client for 18 years as its Edmonton web design, branding and advertising agency of record, MetCredit has grown and evolved into a complex, multi-layered business. In order to do our best work, we needed to learn about the newest processes, meet current employees at all levels, and understand the real needs of the varied user types, defining a wide range of customer and user personas.
We implemented a custom Live Chat capability on the site, expecting that many users would prefer the immediacy and relative anonymity of instant live help. Since the launch, it's already proven to be a very popular feature.
We also re-wrote all the website content from scratch. One thing that sets MetCredit apart from its competitors (in addition to its technology) is the company's culture of respect. In working with MetCredit as both a client and vendor for almost two decades, I've witnessed this core value in my dealings with team members and executives alike, and sought to reflect the focus on leadership through respect in the website's content and messaging.
And because MetCredit is a Canada-wide business with an office in Québec, all of that website content, including the parts seen only by search engines, were professionally translated to Canadian French.
Since the launch, we've implemented a comprehensive inbound marketing strategy. This includes an ongoing combination of blogging, social media, email marketing and premium content offers that nurture MetCredit's sales funnel with the same high level of customer care that has established the company as the national industry leader.
If your business needs to collect debt, I highly recommend MetCredit from the point of view of a longtime customer. They work quickly, and live up to their promise of respect, which is essential to preserving client relationships in the small world of business. Check out the new MetCredit website, and give them a shout—you'll hear back promptly.
Interested in cranking up your own inbound marketing and lead generation? Hit the pink button below to download our popular Lead Generation eBook.