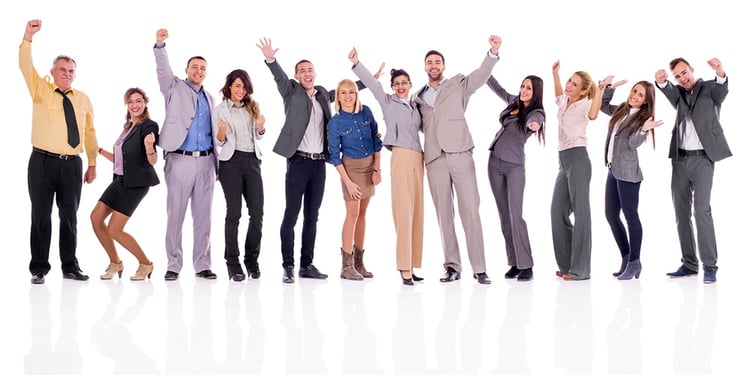 In inbound marketing we talk a lot about buyer personas. These are semi-fictitious archetypes we create to represent your various customer types. It's very practical and makes a ton of sense.
Why? Having detailed buyer personas (based on research and real data) enables us to segment leads into categories, each with similar needs, buying patterns, objectives, interests, pain points, knowledge levels and more.
By doing so we can communicate with them through marketing automation in a much more natural way. It's a cornerstone of inbound lead nurturing.
Having run an Edmonton web design company since 1993, I estimate I've read around 6,500 web form submissions. Without buyer personas, they would all seem quite random and varied at first blush, yet virtually any of them can be identified as one of 12 archetypes. (These are not actual buyer personas.) Try it with the online submissions you've received.
Whether you're into inbound marketing and buyer personas or not, you will probably recognize these 12 people who submit your web forms:
1. Tirekicker Tony
Quality of product or service are nowhere on Tony's radar. He's fixated his sole basis for comparison: price. Expect no loyalty from Tony (you're a commodity), unless you can get some face time (or at least telephone time) to educate him on why things like service, quality and structured plans are of value. Sometimes it's not the prospect's fault, when he or she doesn't fully understand your business yet and price seems like the only differentiator. One more thing: Tony usually needs it yesterday.
2. Novelist Nellie
Nellie maxes out your form's character limit with elegant prose describing her needs. She paints an elaborate picture, and at the same time demonstrates she's got far more time on her hands than you. Put this to good use, and be sure to book a little extra meeting time.
3. Stream-of-Consciousness Stan
Stan is Novelist Nellie's distant cousin. He can write volumes as well, but tends to be less articulate as he traverses the map with his tangential thoughts. (Did you really need to know about that ex-partner and her spending habits?) Project Management will be critical with Stan. Use an agenda, and consider a slideshow along with other focus methodologies to keep things on track—and adjust your proposal accordingly if time is a cost factor.
4. Hotmail Hal
Hotmail Hal will use an ill-fitting pseudonym like Mr. Jacob Andrews, and will need to know first off if you accept credit cards. He may volunteer that he is deaf (so you'll need to communicate about the order via email). Hal will have a Yahoo, Hotmail or similar email address that may not match his current alias. A good inbound marketing platform includes automated workflows to help you manage folks like Hal.
5. RFP Ronnie
Ronnie has surfed 47 websites similar to yours and submitted the same Request for Proposals to all of them. Sometimes Ronnie will blow your mind by dumping all 47 addresses into the cc field. Why wouldn't you want to spend your next week on an entry in Ronnie's race to the bottom? But rather than hit delete, give Ronnie a call and explain how your offering is uniquely suited to her needs. Even if you still end up in an RFP competition, you may have an edge.
6. SEO Sam
Sam doesn't really know (or much care) what your company does. He will happily submit your web form twice a week, asking in amusingly awkward English why you are not yet outsourcing your Search Engine Optimization (SEO) work to him. He may even show irritation that you have not responded yet to his prior emails. Remember that workflow for Hotmail Hal? It can help with Sam as well.
7. Deluded Diane
Diane's form submission is painstakingly crafted, detailing her needs and expectations with impressive clarity. Unfortunately those expectations are born out of dreamland, and the generic salutation hints that you're one of multiple recipients. There may be hope of setting Diane straight, and if so she might even select you over others who over-promise to get the contract.
8. ALL CAPS ALICE
A jarring throwback to telegraph days, Alice is blessedly concise, because even she dislikes reading her caps-lock missives.
Alice may be more at ease vocalizing her needs, so try to connect by phone or in person to put her in a zone that's more comfortable for everyone.
9. No Punctuation Norine
Norine proves she is a laissez-faire gal by forgoing conventions like punctuation or capital letters.
Heads up: it may fall upon you to look after the details in this business relationship.
10. WTF Wally
Wally is probably a great guy—trouble is you have no way of knowing what he needs. His form submission is indecipherable, with at least one typo per word, including his contact info.
If you can locate Wally, there is probably an opportunity to add value. Wally may not simply be careless, but could be among the many brilliant entrepreneurs who struggle with dyslexia or other
language processing disorders
. Show sincerity and respect in helping him, and he'll never forget you.
11. All About Me Allison
Allison has read enough business blogs to know as the customer she's always right—and dictates her terms accordingly. No phone calls. Reply by
EOD
tomorrow with your firm price. Allison is the love-child of Tirekicker Tony and RFP Ronnie. Decide if you are the right supplier to cater to such standardized, inflexible expectations. (Tip: you may want to tactfully reach out to Allison despite her "no phone calls" demand, perhaps citing an important piece of missing info. It could be that although she is tight for time and casting her net wide, she would value a helpful, sincere adviser. Few of your competitors will take the chance.)
12. Dreamy Deanna
This is the lead you've been waiting for. Deanna clearly values quality and service, understands her role in the customer-vendor relationship, has done her homework and is looking to place a substantial, recurring order as soon as she finds the right fit. She loves your website and awaits your excellent lead nurturing and closing techniques. Don't hesitate: studies show that
35 to 50% of sales
go to the vendor who responds first!
Want to know who is really visiting your website? Send me a note and I would be happy to show you how the latest marketing intelligence and automation tools can transform the way you're selling online! Or click the pink button below to get our free inbound marketing guide.
Laurier Mandin is the president and lead consultant at Graphos, the world-class Downtown Edmonton web design, branding and inbound marketing agency he founded in 1993.